A Yosemite National Park wedding checks all the boxes for a magical and memorable destination for your special day.  Turn the page on this new chapter in your lives together surrounded by fresh air and natural beauty. Soaring white granite cliffs and plunging waterfalls surround you and your guests. This magnificent landscape connects you to something both timeless and personal. And the expansive scenery is both adventurous and filled with possibility.
If you're thinking of an intimate wedding or elopement, get ready to fall in love with the idea of getting married in Yosemite National Park. A wide variety of options ensures that your special day will reflect who you are as a couple.
Charming and Convenient Wedding Location Inside Yosemite National Park
The Redwoods In Yosemite is located in the town of Wawona, close to the Mariposa Grove of Giant Sequoias. It's far enough away to be out of the hustle and bustle, and yet close enough to make it an easy drive to Yosemite Valley or Glacier Point.
Wawona is situated in a quiet and scenic valley crossed by both the south fork of the Merced River and Chilnualna Creek. The area is steeped in a long history of welcoming people. It was first known as "Pallahchun" meaning "a good place to stop". Then in 1855, the park's first guardian, Galen Clark set up Clark's Station here, welcoming guests with generosity and good cheer. The Redwoods In Yosemite carry on this hospitality to this day.
In addition to the scenic locale and friendly people, there is a lot to do right here in Wawona. Visit the nearby Mariposa Grove of Giant Sequoias. Wander up to the cascades on Chilnualna Creek, or make the longer hike to the top of Chilnualna Falls. Relax by the river, or swing your way across Wawona's swinging bridge. Explore Yosemite's history at the Pioneer History Center. You can even enjoy a round of golf at the Wawona Golf Course. You can do all these things and many more. Plan to enjoy everything that this little corner of Yosemite National Park has to offer.
Outdoor Yosemite Wedding Venues
Yosemite National Park offers many more outdoor public wedding venues inside the park for groups of 11 or more. These stunning locations highlight the most beautiful and iconic features that Yosemite has to offer. Smaller groups of less than 11 people have even more choices for possible wedding venues. These small wedding parties are free to choose a location anywhere in the park, with just a few exceptions. You need to stay out of open meadows, off river banks/ riparian areas, and away from the bases of giant sequoia trees. Avoid these areas because they are particularly sensitive to human impacts and erosion.
Here's a quick overview of some of the destinations you might be interested in.
Keep in mind that if you're in a public space, the public is allowed to be there – even if you're in the middle of a wedding ceremony. Don't let them phase you. Most people are respectful, but if you want to be alone consider planning a ceremony for the early hours of the morning. Alternatively, choose a private venue like the Wedding and Event Center at The Redwoods In Yosemite.
 Wedding Ceremony Locations Close to Wawona
Since we've already mentioned our favorite location, let's start with options in Wawona. If you're planning to stay in a vacation rental cabin in Wawona, you won't find a wedding ceremony location more convenient than these.
Chilnualna Fall Trailhead. This wedding venue is one of the NPS-approved locations in Wawona. It is just southwest of the parking area for Chilnualna Falls and accommodates up to 50 people.
Vacation rental cabins inside Yosemite. Several vacation rental homes provide a perfect setting for a small wedding ceremony or reception. Choose a cabin with an expansive deck or an open yard overlooking the South Fork of the Merced River. You can plan to hold your wedding service at any time, without wondering if any other members of the public will wander into your special moment.
The Redwoods in Yosemite Wedding and Event Center. By planning your wedding in Wawona, you also have the option of hosting your rehearsal dinner and/or Yosemite wedding reception at the nearby Wedding and Event Center. This is an affordable and welcoming wedding venue with the amenities you need. A spacious outdoor deck allows you to stay connected to the fresh air and natural scenery in Yosemite. A convenient Catering Kitchen and outlets for extra lighting or warming ovens make serving food simple. The Event Center accommodates up to 80 people for indoor seated dining. Find out more about the Wedding and Event Center.
Wedding Ceremony Locations atop Yosemite's Iconic Cliffs
Looking for an adventurous and airy setting for your wedding ceremony? Access for all three of the locations is along the Glacier Point Road. Each venue boasts spectacular views of Half Dome, El Capitan, or other iconic Yosemite features. Note: the Glacier Point Road closes in winter. In the late fall or early spring, snowstorms could cause the road to close as well. Think of these as summer and early fall options.
Glacier Point Amphitheater. The Glacier Point amphitheater commands an impressive and iconic view directly across from Half Dome. Of the three options in this section, this is the only one that is wheelchair accessible. However, dates are limited. Not only do you need to account for the winter Glacier Point Road closure, weddings are not scheduled here in July or August. If you can work around this schedule, Glacier Point is your destination. This venue accommodates up to 50 people, and NPS monitoring is required for parties larger than 35 people. Glacier Point is about 28 miles from The Redwoods In Yosemite cabins.
Sentinel Dome. Sentinel Dome is only an option for wedding groups of 11 or fewer. The top of the dome is just over a mile from the trailhead and the last section involves a steep walk up the granite flanks of the dome. That means it may not be for everyone. However, the summit views provide a 360-degree panorama of the Yosemite landscape with views of Half Dome, Yosemite Falls, and the High Sierra peaks. This is a great spot to catch either sunrise or sunset, though if you plan an evening ceremony, prepare to be surrounded by other park visitors. Sunrise is usually much quieter. The trailhead is about 26 miles from Wawona.
Taft Point. You might have seen the photos of wedding couples posed at the edge of a cliff at sunset with El Capitan far below. That would be Taft Point. Although a popular photo location, Taft Point is also only a wedding ceremony option for wedding parties of fewer than 11 people.
Wedding Venues Among Yosemite's Giant Sequoias
Say your vows with centuries-old giant sequoia trees standing witness. Both the Tuolumne and Merced Groves have designated outdoor wedding ceremony venues. While you're there, be sure to respect these ancient trees by giving them plenty of room. Giant sequoia tree roots are very shallow and are easily compromised when people walk close and compact the soil around those fragile roots. Standing on sequoia roots and near sequoia trees is not allowed.
Tuolumne Grove of Giant Sequoias. The designated wedding site in the Tuolumne Grove is about a 2.5 mile (4 km) round-trip hike with 400 feet (120 m) elevation loss then gain along a paved trail. The ceremony needs to stay on the footpath. This location can accommodate up to 30 people.
Merced Grove of Giant Sequoias. The hike to the wedding site in the Merced Grove is a little longer than the Tuolumne Grove. It is 3 miles (4.8 km) round trip and the hike loses 600 feet (180 m) that you will have to climb again to leave. Again, the ceremony needs to be on the footpath, and standing on sequoia roots or near the sequoia trees is forbidden – and uncool.
Mariposa Grove of Giant Sequoias. Unlike the smaller groves in the park, the Mariposa Grove of Giant Sequoias doesn't have a dedicated wedding ceremony venue. However, if your wedding party is fewer than 11 people, you can get married here as well. During the winter months, the road to the Mariposa Grove closes. This adds an extra 2 miles (3.2 km) in each direction to get from the Welcome Plaza near the entrance gate to the lower grove. Like the other sequoia groves, it's important to stay on the footpath and off the vulnerable roots of these giant trees.
Wedding Locations by the River in Yosemite Valley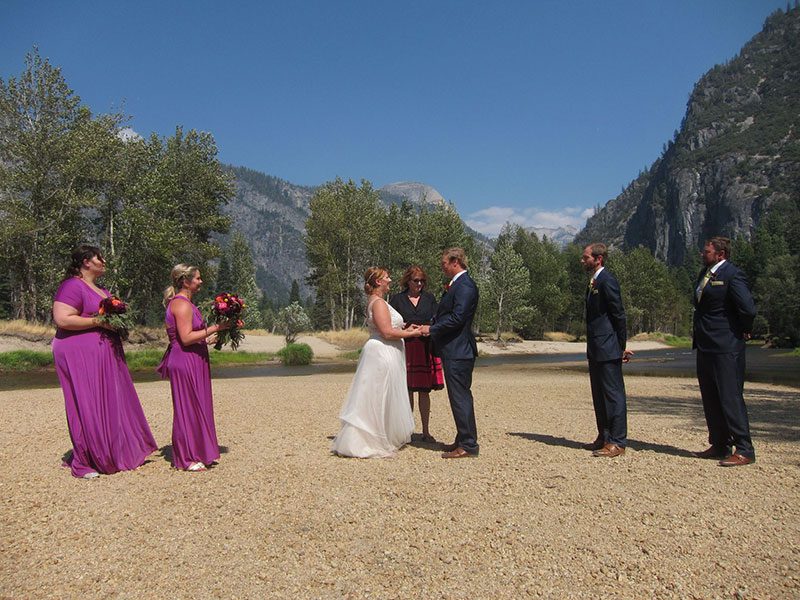 There are several popular wedding ceremony locations along the river in Yosemite Valley. Each of these destinations has specific group size limits and restrictions.
The Cascades Picnic Area. This is one of the lowest-elevation wedding venues along the Merced River corridor, making it extra appealing for a winter wedding. In addition to the nearby river, Cascade Fall is just across the street. Wedding ceremonies are not permitted in the falls viewing area, however.
Swinging Bridge Picnic Area, Cathedral Beach Picnic Area, and Sentinel Beach Picnic Area are located in Yosemite Valley along the shores of the Wild and Scenic Merced River. White granite cliffs rise up all around and you'll be surrounded with views of Yosemite Valley's icons. Each area has its own group-size limits. These range from a 20-person maximum at Swinging Bridge to a 100-person maximum at Sentinel Beach.
Yosemite Wedding Sites Near Waterfalls
The spring season invites couples to say their vows in the presence of one of Yosemite's famous waterfalls.
The Lower Yosemite Fall trail has a location along the paved path designated for wedding ceremonies with up to 50 people. This site is wheelchair accessible and restrooms are nearby. Note that you are not allowed to have your ceremony on Yosemite Creek Bridge or at the base of the waterfall.
Bridalveil Fall. Was there ever a location name that was so appropriate for a wedding ceremony? Get married in a forest clearing with Bridalveil Fall in the background. Up to 50 people can gather together for a wedding here.
Lodging for You and Your Wedding Guests
Regardless of where you choose to say your vows, you and your guests should stay at The Redwoods In Yosemite. The Redwoods In Yosemite operates more than 120 vacation homes and rental cabins in Wawona, making it easy to find the perfect lodging options for you and your guests. The vacation homes range from rustic 1-bedroom cabins to a sprawling luxury home with space for 22, and many variations in between.
Renting private cabins that are close together allows you to have private space, but still connect easily with friends and family. They will be just a short stroll away. Plus, the Wedding and Event Center is right around the corner, making logistics a piece of cake.
Wedding Packages Available
Wedding packages make hosting your wedding as easy and affordable too. You get three nights of lodging. Tables, chairs, and linens for up to 40 guests will be taken care of for you – from delivery to set up. Plus, receive 10% off any additional cabin rentals for your guests. Some packages also include the use of the Wedding and Event Center. Be sure to ask our wedding planners for more details on everything that is available.
Yosemite National Park wedding regulations and fees
It's no secret that Yosemite National Park is a popular destination. People travel from around the world to see the sights. With so many visitors, it's no surprise that there are several rules and regulations for getting married in the park.
First, if you hold your wedding inside Yosemite National Park, there are a few fees involved.
The wedding permit is $150. If your event looks like a wedding, you need to get a wedding permit. This includes wedding photoshoots even if there is no ceremony involved, wedding anniversary events, elopements, and even engagement photo sessions. This may not be a huge amount in the grand scheme of things, but it is important to be aware.
Depending on the size of your group and the venue you choose, there may also be a requirement for an NPS monitor. The monitor's role is to be sure your group isn't negatively impacting the environment nearby and that all regulations are being followed. Event monitoring costs $50/hour in addition to your wedding permit fee.
Second, when you're in a destination as beautiful as Yosemite National Park, you shouldn't need additional decorations. Good thing, because putting up decorations or signs with directions to your event isn't allowed. Do not plan on releasing birds or butterflies or throwing birdseed or rice. Amplified music and public address systems aren't allowed. No pets. No drones. Read the full set of regulations here.
If this seems complicated, don't worry. Wedding planners at The Redwoods In Yosemite can help you effortlessly navigate all these dos and don'ts.
Wedding Planners Help Make the Planning Process Easy
With so many options, you will love working with our friendly and professional wedding planners. Our local wedding planners can help you personalize your event, and make the perfect arrangements. They make organizing your event a breeze so you can focus on enjoying your special day.
Wedding planners can help your guests choose the ideal cabin for them. We can also recommend local vendors, and coordinate with florists, photographers, caterers, and other service providers. We can also help you understand and navigate the policies, and fees that go with a wedding ceremony in Yosemite National Park. No matter what help you need to get ready for your perfect Yosemite wedding, you'll find our staff goes above and beyond to help make your day unforgettable.
Contact our Events Department: ph. 1-877-496-3052  
E-mail: Events@RedwoodsInYosemite.com
What Other Wedding Couples Say
But don't take our word for it. Read what other happy couples have to say about getting married at The Redwoods In Yosemite.
Read
View reviews:
in