Yosemite's winters are simply enchanting – a breath of clean crisp air and soaring granite cliffs decorated in snow. While this season is going to be a little different than usual, there is still plenty to do, and many ways to take advantage of this extraordinary season change in Yosemite.  Here are some of the best reasons to make plans for a magical snowy getaway in Yosemite this winter.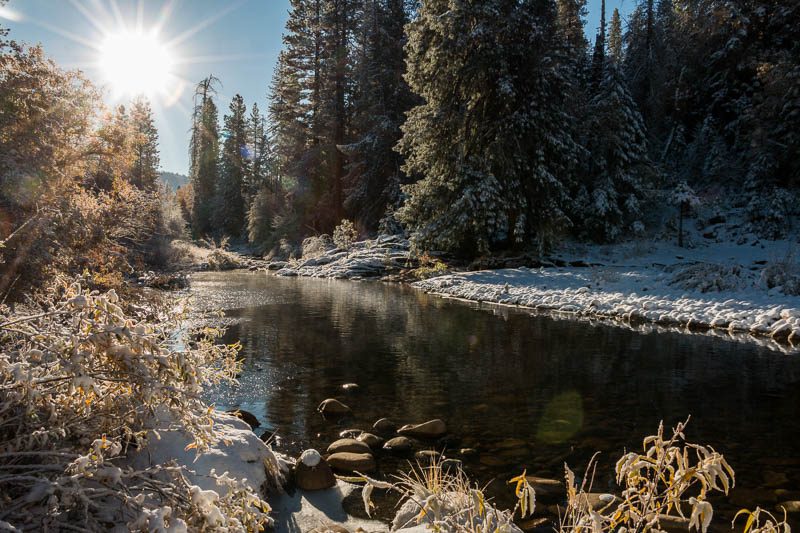 Cross country ski or snowshoe to Dewey Point. Yosemite has some of the most scenic cross country terrain on the planet. The downhill ski and snowboard area at Badger Pass is not operating this year, but you will still be able to drive up and experience winter's elegance and pristine beauty. You can get plenty of slip-sliding fun under your own power with a pair of cross country skis. Dewey Point is a 7-8 mile round-trip ski, but rewards the effort with spectacular views overlooking Yosemite Valley. From Badger Pass you can also tap into some of the shorter trails through the forest and out to views of snow-capped sierra peaks or wide open snow-covered expanses. Note: NPS is going their best to keep this area open for all of us to enjoy. Please take extra good care of it, so that the privilege isn't revoked. Be respectful of other users, and especially careful to pack out all your trash.
Cuddle Next to the Fireplace. No matter where your winter adventures take you, it is absolute luxury to return to your private cabin and curl up next to a blazing fireplace. Add in a cup of tea or hot cocoa and a board game to enjoy amazing quality time with your loved ones. Guaranteed to make lasting memories.
Witness Frozen Waterfalls and Rivers. Once we get the first rains of the seasons, the waterfalls and rivers become recharged with flowing water. On cold nights, the waterfall spray turns into a delicate lacework of ice that melts again in the warmth of the sun, and the river begins to trace frosty patterns across its surface.
Go Ice Skating at an Outdoor Rink. While beautiful, the rivers in Yosemite Valley rarely freeze enough to skate on. Instead, we recommend gliding across the ice at an outdoor ice skating rink. This winter, Curry Village and all the activities there, including ice skating, are going to remain closed for the season. However, if you rent a home from The Redwoods In Yosemite, there is a beautiful alternative nearby at Tenaya Lodge at Yosemite. Take a few laps, or practice your triple toe loop with wide-open views of the Sierra National Forest. Once you're done arcing across the ice, it's time to unlace and unwind. Make sure you have supplies for s'mores. Gather around the fire pit with your family and roast a few marshmallows for a post-ice-skating treat.
Ski or Snowshoe Through the Mariposa Grove of Giant Sequoias. Here is yet another uniquely winter experience not far from the doorstep of your Redwoods In Yosemite vacation rental cabin. Wander in awe through these red giants blanketed in white snow. Rental snowshoes are available locally at Tenaya Lodge at Yosemite
Set your Inner Child Free with Snow Tubing and other Snow Play. Take it from us, a fun sledding hill is a delight at any age. The Goat Meadow Snow Play Area, less than 15 minutes from your Wawona cabin, provides a great sanctuary for snow tubing, building snow people, or having a spontaneous snowball fight. Laughter and snow go hand in hand here in Yosemite. In the right conditions, you can even go sledding right in Wawona on the golf course.
Explore Yosemite's Hiking Trails in Peace and Quiet. While snow is the name of the game at higher elevations, you can often find perfectly hikeable trails at lower elevations. Yosemite Valley trails and boardwalks are often plowed to make exploring easy, and you'll find there are still many gorgeous places that walk to. We do recommend waterproof hiking boots if you have them, or a warm change of socks if not.
Perfect your Winter Photography Skills. Yosemite is easy on the eyes in any season, but winter holds a particular beauty all its own. With a sky full of ever-changing clouds and a landscape blanketed in white, the scene is perfect to post on social media. Just be sure to check the weather and layer up while waiting for those ideal panoramic shots.
Horsetail Fall: The Natural Firefall. Speaking of photography skills, there are a few weeks in the later part of February when the sun can strike the edge of Horsetail Fall, turning its waters into a stream of molten gold. This event typically draws photographers from around the world, but you don't need a camera to enjoy its otherworldly beauty.
Take a moonlight stroll and look for moonbows. The sun sets early in the winter, but between blankets of soft white snow and the pale granite cliffs, Yosemite all but glows in the light of the moon. If you get the conditions and the angles just right, you can even catch moonlight forming shimmering moonbows across some of Yosemite's refreshed waterfalls.
One more for good measure. You know another thing that is magical here in winter? The great deals on Yosemite winter lodging! The Redwoods In Yosemite cabins are located in Wawona, close to snow play, ice skating, and the winter adventures at Badger Pass. The Mariposa Grove is so close that you can practically ski or snowshoe from here! Relaxing and private, these fully-equipped vacation homes and cabins border the wild and scenic  South Fork of The Merced River, the Wawona Swinging Bridge and Chilnualna Falls (the second highest vertical drop waterfall in Yosemite). Many of our homes are pet-friendly, making it possible to bring the whole family for your winter retreat. You can also look for cabins that feature spa tubs, private decks, and BBQ's for a true home away from home experience.