Yosemite's winters are simply enchanting – a breath of clean crisp air and soaring granite cliffs decorated in snow. While this season is going to be a little different than usual, there is still plenty to do, and many ways to take advantage of this extraordinary season change in Yosemite.  Here are some of the best reasons to make plans for a magical snowy getaway in Yosemite this winter.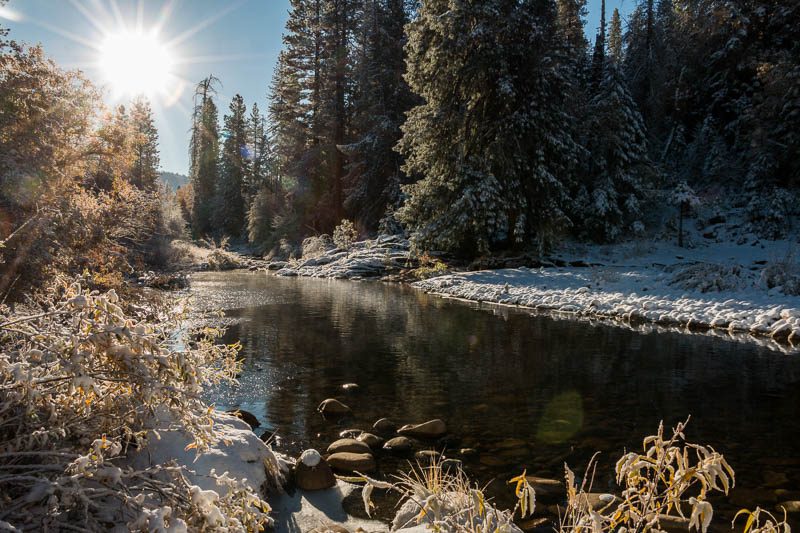 Cross country ski or snowshoe to Dewey Point. Yosemite has some of the most scenic cross country terrain on the planet. The downhill ski and snowboard area at Badger Pass is not operating this year, but you will still be able to drive up and experience winter's elegance and pristine beauty. You can get plenty of slip-sliding fun under your own power with a pair of cross country skis. Dewey Point is a 7-8 mile round-trip ski, but rewards the effort with spectacular views overlooking Yosemite Valley. From Badger Pass you can also tap into some of the shorter trails through the forest and out to views of snow-capped sierra peaks or wide open snow-covered expanses. Note: NPS is going their best to keep this area open for all of us to enjoy. Please take extra good care of it, so that the privilege isn't revoked. Be respectful of other users, and especially careful to pack out all your trash.
Cuddle Next to the Fireplace. No matter where your winter adventures take you, it is absolute luxury to return to your private cabin and curl up next to a blazing fireplace. Add in a cup of tea or hot cocoa and a board game to enjoy amazing quality time with your loved ones. Guaranteed to make lasting memories.
Witness Frozen Waterfalls and Rivers. Once we get the first rains of the seasons, the waterfalls and rivers become recharged with flowing water. On cold nights, the waterfall spray turns into a delicate lacework of ice that melts again in the warmth of the sun, and the river begins to trace frosty patterns across its surface.
Go Ice Skating at an Outdoor Rink. While beautiful, the rivers in Yosemite Valley rarely freeze enough to skate on. Instead, we recommend gliding across the ice at an outdoor ice skating rink. This winter, Curry Village and all the activities there, including ice skating, are going to remain closed for the season. However, if you rent a home from The Redwoods In Yosemite, there is a beautiful alternative nearby at Tenaya Lodge at Yosemite. Take a few laps, or practice your triple toe loop with wide-open views of the Sierra National Forest. Once you're done arcing across the ice, it's time to unlace and unwind. Make sure you have supplies for s'mores. Gather around the fire pit with your family and roast a few marshmallows for a post-ice-skating treat.
Ski or Snowshoe Through the Mariposa Grove of Giant Sequoias. Here is yet another uniquely winter experience not far from the doorstep of your Redwoods In Yosemite vacation rental cabin. Wander in awe through these red giants blanketed in white snow. Rental snowshoes are available locally at Tenaya Lodge at Yosemite
Set your Inner Child Free with Snow Tubing and other Snow Play. Take it from us, a fun sledding hill is a delight at any age. The Goat Meadow Snow Play Area, less than 15 minutes from your Wawona cabin, provides a great sanctuary for snow tubing, building snow people, or having a spontaneous snowball fight. Laughter and snow go hand in hand here in Yosemite. In the right conditions, you can even go sledding right in Wawona on the golf course.
Explore Yosemite's Hiking Trails in Peace and Quiet. While snow is the name of the game at higher elevations, you can often find perfectly hikeable trails at lower elevations. Yosemite Valley trails and boardwalks are often plowed to make exploring easy, and you'll find there are still many gorgeous places that walk to. We do recommend waterproof hiking boots if you have them, or a warm change of socks if not.
Perfect your Winter Photography Skills. Yosemite is easy on the eyes in any season, but winter holds a particular beauty all its own. With a sky full of ever-changing clouds and a landscape blanketed in white, the scene is perfect to post on social media. Just be sure to check the weather and layer up while waiting for those ideal panoramic shots.
Horsetail Fall: The Natural Firefall. Speaking of photography skills, there are a few weeks in the later part of February when the sun can strike the edge of Horsetail Fall, turning its waters into a stream of molten gold. This event typically draws photographers from around the world, but you don't need a camera to enjoy its otherworldly beauty.
Take a moonlight stroll and look for moonbows. The sun sets early in the winter, but between blankets of soft white snow and the pale granite cliffs, Yosemite all but glows in the light of the moon. If you get the conditions and the angles just right, you can even catch moonlight forming shimmering moonbows across some of Yosemite's refreshed waterfalls.
One more for good measure. You know another thing that is magical here in winter? The great deals on Yosemite winter lodging! The Redwoods In Yosemite cabins are located in Wawona, close to snow play, ice skating, and the winter adventures at Badger Pass. The Mariposa Grove is so close that you can practically ski or snowshoe from here! Relaxing and private, these fully-equipped vacation homes and cabins border the wild and scenic  South Fork of The Merced River, the Wawona Swinging Bridge and Chilnualna Falls (the second highest vertical drop waterfall in Yosemite). Many of our homes are pet-friendly, making it possible to bring the whole family for your winter retreat. You can also look for cabins that feature spa tubs, private decks, and BBQ's for a true home away from home experience.
Yosemite with a Furry Friend
Story, text & photo credit Claire F. Meyler,  yosemiteconservancy.org
When we visited Yosemite for my husband's 30th birthday, we wanted to bring the whole family – and that meant our pup, Samurai. With a few rare exceptions (noted below), Dogs are only allowed on paved trails and developed areas, to ensure the safety of Yosemite's wildlife. But don't let that stop you from bringing your furry friend! Yosemite Valley is a lovely place to explore with a dog in tow.
We enjoyed a leisurely walk along the Valley Loop Trail, a paved path that includes boardwalks over fragile meadows and lovely views of many Yosemite icons: Yosemite Falls, Half Dome, El Capitan and other granite giants. The access path to Lower Yosemite Falls is also paved, with picnic areas and benches. For the rare unpaved treat, bring your leashed dog to the Wawona Meadow Loop,  an  easy 3.5 mile hike that begins at the Wawona Hotel. Visit in winter for beautiful snowy vistas, or come in spring for colorful wildflowers.
Other hidden dog-friendly paths  include; Chowchilla Mountain Road; Wawona's Four Mile and Eleven Mile Fire Roads; Carlon Road from the trailhead to Hodgdon Meadow; and on the Old Big Oak Flat Road from Hodgdon Meadow to Tuolumne Grove parking lot. For breathtaking views of the valley, drive to paved overlooks at Tunnel View or bring a picnic to Olmsted Point.
Get Started
We chose to camp in the valley, but plenty of local hotels just outside Yosemite allow dogs for a small fee. Be sure to ask ahead when you make your reservations. Check out all the pet guidelines to make sure you have a safe and happy trip – and remember to store your dog food in the bear-safe food lockers!
Tips for the Trip
Make sure you pack enough water and snacks for yourself and your dog – you will both need extra water in the high elevation. Pack a 6-foot stationary leash, portable bowl, and enough waste bags to clean up after your pooch. To stay safe, never leave a dog unattended in a campsite or car. If you want to explore unpaved trails on your own, kennel services are offered in Yosemite, and at most pet-friendly hotels. Enjoy!
Follow where
this link takes you
, don't mind the ads and enjoy the story told by Yosemite ranger thanks to the PBS.org network!
Wawona is blooming! Here are a few photos taken this morning on the way into Yosemite National Park.If you have photos you would like to share on our 'Wawona In Bloom' slideshow you can submit them using the form below. Be sure to bookmark this page to see what's blooming! Your photo may also be featured on our Facebook page so be sure to 'like' us by clicking the Facebook icon on the top right of your screen.
Story by Ralph Harder of Cabin 3A 
            Although I am an Original 73, I was not part of the core group that formed the Corporation. You, hopefully will hear/have heard from Bob Dunn, Elmer Green, and others still living about that. In fact, for the prior two years I was renting my cabin through the Mays, having become fed up with Dick and Wanda Moore. It is a shame that we have no complete history of the founding of WPMI (Wawona Property Management Incorporated), let alone the history of The Moore's Redwoods, which preceded it. I'll provide what I can.

Our logo states: CIRCA 1949. I can't vouch for that but I know that in the 1950's there were several cabins surrounding River Road. The Mays had a cafe and gas station (where the Honeymoon Cabin is now), plus their cabins. I visited Wawona twice while working summers for Yosemite Park & Curry Company in the Valley, in the 50's. Richard (RD) Moore and his wife Jewett ran The Moore's Redwoods. RD had a contractor's and a broker's license. He sold the lots and built the cabins –solid redwood logs—with the help of his son, Jerry. Jewett handled the rental business. In the 50's and 60's, allegedly, they were building 20 homes a year and renting most of them out for the owners. The lumber yard and hardware store was where the library is today.

After staying twice in Redwoods cabins, I bought a lot (from RD) in 1968 and started construction (by RD) that year—the second year for frame rather than log construction.  All went well until late 70's (I don't have the date), when the Moores decided it was time to retire. I am sorry to say, that I was approached by RD, asking me to get a group together to buy him out. He may have approached others. He may have been asking $250,000. I tried several months, unsuccessfully, to interest enough owners to make the purchase. So then our troubles began.  He sold his holdings to the National Park Service and took a lease-back. He turned the business over to his other son and daughter-in-law, Dick (Jr.) and Wanda Moore. We soon knew we were in trouble when we learned that Dick Jr.had been working for a bank in Fresno that fired him because of suspected embezzlement. There are many stories of poor management, culminated by theft of our deposits. I became fed up (not even knowing about the theft) and cashed out about two years before the end of "The Moores". The Mays were easy to work with but weren't used to working with anything "as big" as my 1500 Sq. ft. 4 bedroom cabin. I was happy to go to WPMI when it was formed.

There is more history that needs to be told…
My name is Carl and I have worked for The Redwoods In Yosemite for a little over two years now. In all that time, for some reason or another, I was never able to find the time to actually explore some of the amazing spots right here in our own backyard until recently.
These spots are never the same as the seasons change, but if you've visited us before then you know where they are. If you haven't visited then I will discontinue using words to define what the following images describe so beautifully about how lucky I felt to capture them.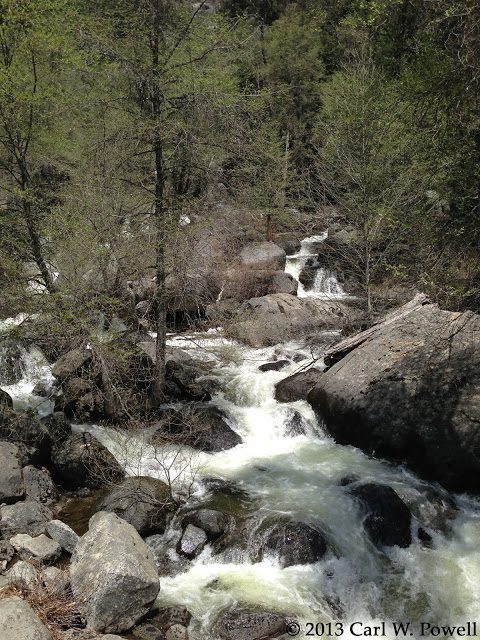 Written by Christina Kantzavelos, BuenQamino
Most people who have had the opportunity to venture through Yosemite National Park, have driven through the famous and historical Wawona Tunnel. It is part of three main roads in Yosemite Valley, transporting you down to Tunnel View and Yosemite Valley, or up to Wawona and Mariposa Grove on California State Route 41, towards on the south entrance. There isn't anything more spectacular than driving through Wawona Tunnel to reach one of the most stunning views in the park. The spectacular Tunnel View looks eastward into Yosemite Valley, including the Half Dome, El Capitan and Bridalveil Fall. Here are other great facts about the tunnel:
Construction of the tunnel began in 1930, and was dedicated in 1933. And everyone who worked on its construction survived.

It cost $850,000 to construct at the time, equivalent to a cost of 12.5 million today.

The tunnel was blasted through solid granite bedrock on the mountainside, requiring 275 tons of blasting power.  

It is the longest highway tunnel in California at 4,233 feet (1,290 m) long, or 0.8 miles long, and was once the largest tunnel for vehicles in the west.

Although not a popular spot, people like and are able to rock climb the tunnel.
Looking for a cabin near this engineering marvel?
Our stunning Redwoods In Yosemite cabins are located in Wawona, at the Southern entrance of Yosemite, and just a few miles from the Mariposa Grove of Giant Sequoias. Relaxing and private, these fully equipped vacation cabins border the wild and scenic South Fork of The Merced River, the Wawona swinging bridge and Chilnualna Falls (the second highest vertical drop waterfalls in Yosemite)! Our Event Center includes full use of the Fireside Room and adjacent deck, with audio and visual equipment and a catering kitchen. Many of our cabins are pet-friendly, some feature spa tubs, and all have private decks with BBQ's and upgraded linens for that, "Home Away from Home" experience. Relax, explore, and escape in Yosemite!
Over generations, countless visitors have driven down a meandering Chilnualna Falls Road in Yosemite for the first time in search of an answer to that question. To those that made that journey, we all were that person at one point in our lives and the uniqueness of that initial memory, and those that ensued, is as unique as The Redwoods In Yosemite. It is a constant appreciation of that dichotomy of commonality and difference that makes the Redwoods so special. Whether you can no longer count the number of visits that you've made to the Redwoods or you just discovered it, it should come as no surprise that places like the Redwoods are rare. In many ways, its timeless continuance is an improbable outcome for a small establishment nestled within one of the Seven Wonders of the World. Were it not for decades of enduring care from its early founders and every generation that followed, the fate of the Redwoods might read quite differently. Acknowledging all the individual contributions that helped deliver the Redwoods to where it is today would be a daunting task, to say the least. Then again, that debt of gratitude may already be paid in full. For anyone that has spent time at the Redwoods has already received something meaningful in return, memories. To the individual for which these memories belong, they are likely priceless. Generously, several individuals have shared herein some of their thoughts on the Redwoods for all of us to enjoy. Perhaps that will compel you to share your memories as well. It's not difficult, you just have to ask yourself, what does the Redwoods mean to you?

Author: Jon Finney

Mariposa Grove Photo: Nancy Robbins
poem by Kyla King of Cabin 39
I am from warm summers spent learning the names of brilliant wildflowers that cling to granite cliffs and peek out from beneath the scraggly limbs of weathered old pine trees.
I am from clear, calm pools formed over many years in the bends of the south fork of the Merced River where I can swim with rainbow-colored trout that sparkle in the sunlight as they flit through underwater realms.
I am from the sound of Chilnualna Falls as it crashes into a deep, cold pool in the shade of giant boulders.
I am from the smell of sugar pines and wild azaleas.
I am from high alpine lakes, precious jewels enclosed by granite peaks.
I am from crisp mountain air that tastes pure and clean and seems to wrap the awe-inspiring landscape in shimmering gauze.
I am from the wind that whispers through the tops of the towering pine trees, swaying ever so slightly.
I am from small patches of snow settled in the shadows of tall peaks, unwilling to melt in the heat of summer, ready to dazzle the occasional passerby. I am from the babbling sounds of the river, midafternoon summer sunlight, and gentle breezes.
I am from the feeling of warm granite, rough under my feet.
I am from the tremendous effort of backpacking and the relief that accompanies the removal of large backpacks.
I am from the breathlessness felt only on tall peaks gazing out at smudged blue and purple mountains, receding into the distance.
I am from card games during hiking lunch breaks.
I am from days of adventure and exploration and the thrill of discovering something in nature that no one else will see in exactly the same manner.
I am from forging my own path through undergrowth and hiking off-trail, rather than walking along the traditional path.
I am from an oasis, detached from the fast pace of urban life and the humming cacophony of noise that accompanies it.
I am from climbing mountains and bouldering.
I am from a loving family that values wilderness, quiet, and solitude.
I am from a childhood of picking wild berries and collecting acorns with my younger sister.
I am from an environment that inspires me to paint landscapes and write poetry and allows me to understand Frost, Thoreau, and Emerson's appreciation for nature.
I am from a multi-generational tradition of summer trips, warm nights spent on the deck of our cabin, and hearing my grandparents reminisce about days from their past.
I am from a culture of laughter, adventure, and family.
I am from Yosemite.
To read more of our Recollections of Life and Events in Wawona, Yosemite National Park stories as told by the Homeowners of The Redwoods please visit our blog.
edited by Debbi Shelander